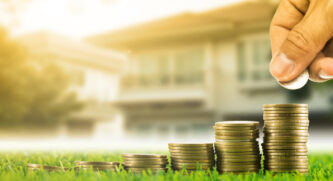 Honest advice from people who work with money every day.
Ask two people for advice on how to save money, and we're guessing you may get two different answers. Pick up two books on saving money, and again, you may read about two distinct methods.
Saving money, whether for an emergency, house, travel, or anything you have your heart set on, is not always easy. That's why we decided to pose this one question to our team of personal banking experts.
What's the best advice you can give to someone trying to save money?
Set up automatic deductions.
"If it seems impossible to save money, set up an automatic deduction and have your paycheck go into a savings account. It's too easy to procrastinate about setting money aside for that rainy day. When it is done automatically and you don't see it, it's much easier! Start with a manageable amount so you aren't straining your budget and give up. When you receive a raise or bonus, increase your savings contribution."
—Cheryl Sivertsen, VP/Retail Banking Manager, Aberdeen, SD
Make investments.
"The best way to save money is to do payroll deductions. If you don't think you have it, you won't spend it. Instead of putting it into a savings account where it is easy to access the funds, put it into investments that get better interest rates and are harder for you to access."
—Deb Thormahlen, Retail Banker, Watertown, SD
Keep it out of sight so it's out of mind.
"Have it directly sent to a savings account, because if you don't see it in your checking you won't miss it. You can do this by having a certain amount automatically withdrawn from your checking to add to your savings each month. It's like paying any other bill.
—Laine Weerheim, Retail Banker, Mitchell, SD
Avoid impulse buying.
"Before making a purchase, ask yourself if it is necessary, useful, or truly enhances your life? If not, it is only 'stuff' to junk up your life! My dad taught me about delayed gratification. Don't buy something right away. Think about it to make sure you are not making impulsive decisions. If you keep thinking about this item, you might truly not want to live without it! Most of the time we can walk away and never think about it again."
—Patty Klinkhammer, Retail Banker, Sioux Falls, SD
Set a sustainable goal and reward yourself.
"Make sure the amount you are trying to save is sustainable so you don't give up. Then set a goal and reward yourself for reaching it so you stay motivated."
—Phil Bedinger, AVP/Retail Branch Coordinator, Sioux Falls, SD
Make a budget and make it stick!
"Give yourself a set budget each month. Sit down and put aside money for eating out, gas, groceries, and general spending. Then stick to it. Put the rest of your money in a savings account so you're not tempted to spend it."
—Justine Waba, Retail Banker, Watertown, SD
Decrease your spending and up your long-term investments.
"Create a budget, including all expenses you can think of like a car payment, rent or mortgage, cell phone, student loans, etc. Look at where you are spending the most money. Then see if you can decrease any spending. If you have bills you can pay quarterly, semi-annually, or annually, they usually cost less than breaking it up into monthly payments. Choose the option that will save you money. Keep in mind that you have a life to live, so don't make any drastic changes that will create stress."
"Now look at your investment options. If your employer offers a 401K, that is a great start. Contribute what's required for your employer to match if you can afford it. A dollar today will be worth more than a dollar in ten years due to inflation. Also keep in mind that your money may not be accessible until you reach retirement age unless you are willing to pay penalties and taxes. With that being said, try to keep some money on hand in a savings account in case of an emergency."
—Ryan Deraas, Retail Branch Coordinator, Bismarck, ND
Please consult your tax advisor regarding your tax needs.
Find a new source of income.
"Find a new opportunity to earn money by doing things like babysitting, gardening, cleaning, or distributing your favorite product like makeup, oils, or kitchenware. There are also apps you can download to get rebates on items you may already purchase. It's as simple as scanning the product code and snapping a picture of your receipt. As you claim your rebates, your funds will grow until you request a cashout. You can also hold a garage sale or sell items online. If you receive any additional pay funds, checks or bonuses, deposit them directly into your savings account."
—Tammy Doerr, Retail Banker, Aberdeen, SD
Come up with a savings plan that works for you.
If you're like 38% of Americans who aren't retired and aren't saving, it's OK. Today is a good day to start.
People have many approaches when it comes to saving money. The key is to plan to save in some way. If you don't think about saving, you are less likely to do it. If you don't have a savings account, that's a great place to start. If you're in South Dakota or near Bismarck, North Dakota, our bankers would be happy to talk with you about different options—many of which have no minimum balance.
If you're not in South Dakota or North Dakota, banks around the country have savings options with great interest rates to help you build a nest egg. You just have to do your research.