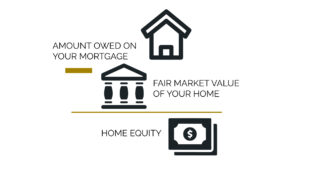 With his extensive expertise in loan operations and over 12 years of experience under his belt, we recently sat down with our own Ryan Wingate, Vice President & Loan Operations Manager, to rack his brain regarding home equity lines of credit.
What is a HELOC?
A HELOC is a Home Equity Line of Credit. It allows you to use the equity, which is the difference between the value and what is currently owed on your home loan. You can use the funds for almost anything: whether it be home improvements, a new vehicle or that dream vacation you have always talked about.

How long does it take to get a HELOC?
Depending on your individual situation anywhere from 7-14 days is the average turnaround time.

What documents are needed when applying?
You will need to complete the application and your lender will pull your credit. Once we are able to gather that information you will need to provide proof of income, typically the last 30 days, but there are other options that your lender can provide you. You will also need to provide proof of current homeowners insurance. Depending on the situation, there may be other documents needed, but that is the exception.

Does it require an appraisal?
Yes and no. Certain situations will need to have an appraisal completed however each situation is unique and your lender will discuss what options you have.

Do I pay any fees?
We do offer a "fee free" HELOC. There is certain criteria that will need to be met, including what your loan to value is as well as credit score. Your lender will let you know what you qualify for.

What's the difference between a home equity line of credit and a home equity loan?
A home equity loan is an installment loan where you get all proceeds of the loan at your closing. You pay a monthly principal and interest statement and your loan is amortized over the number of months you are borrowing the money for. You are not able to re-advance any funds as you pay it down and you pay interest on the entire amount starting the first day. You are also obligated to all loan fees as there is not a "fee free" program.

A home equity line of credit (HELOC) is a revolving line of credit that you advance funds as you need them and are only required to make monthly interest payments. As you pay the principal down, you are able to re-advance those funds, and you only pay interest on the outstanding principal balance. There are 'fee free" options with HELOCs.
Both loans use the equity in your home to determine how much you can borrow.
How do I access the funds?
You can access the funds a couple different ways:
Visit any of our locations and we'll get you a check
Have your banker transfer the funds for you
Transfer funds via online or mobile banking and put the funds directly in to your Plains Commerce Bank checking account.
What is PCB's HELOC draw period?
You are able to draw the funds for a period of five (5) years. At the end of that term you will have the option of paying off the outstanding principal balance, refinancing into another HELOC or refinancing into a home equity loan in order to get monthly principal and interest payments.
Is there a monthly or annual draw limit?
No, the only limitation is that you cannot draw over your availability. There are no fees or other limits as long as it remains current and in good standing.
What is the minimum draw amount?
Yes, the minimum advance is $100.00

What is the repayment period?
The term of a HELOC is 5 years, over that time you can pay down the principal as much or as little as you want. Just remember that any remaining principal at the end of the 5 year term would be due at maturity or you would need to refinance the debt.

What are the terms?
5 years with monthly interest required.
Is there a pre-payment penalty?
No, there are no pre-payment penalties.
What are HELOCs most commonly used for?
Home Improvements
Large purchases, including vehicles, boats or other recreational vehicles
Dream vacations
Funds for unexpected expenses
Are there any restrictions on the type of home I own to apply for a HELOC? (ex: trailer home, condo, town home, etc.)
This needs to be your primary residence and a single family structure. Plains Commerce cannot provide HELOCs on mobile homes, second homes, among others. If you have questions about whether your current home would qualify please reach out to one of our lenders and they would guide you through the process.

Reach out to one of our bankers to see if a home equity line of credit is the best fit for your financial goals-both long and short term.

All credit and loan programs are subject to credit approval.