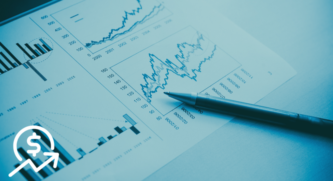 Written by: Chief Trust Officer, Kyle Pickner
1. Will inflation be here for a while?
The pandemic really took its toll on a lot of things. Not only did we see millions of people affected from COVID 19, but economically it was a quite the non-normal event.
Gas and energy prices hitting record highs across the U.S., supply chain issues not being shored up, the war in Ukraine. These issues have exacerbated inflation not just here in the U.S., but all over the world.
Below is a chart of the M2 money supply.
This chart shows a huge uptick in the supply of money in the economy. Roughly six trillion dollars of new money was created in the last two years.

That is a huge injection in a short period of time, so it's no shock that we now are feeling the aftereffects.
The Fed just raised interest rates 75 basis points, which is the largest increase since 1994, in an attempt to combat inflation hitting Americans.
In my opinion, raising interest rates will not be enough. The unemployment rate remains relatively low at 3.6%. Americans are still gainfully employed and have more power than ever in the workforce.
Inflation is an aftereffect of the pandemic and the Fed could be fighting this for a while.
2. Has the stock market bottomed?
Calling a top or a bottom is probably two of the most difficult things to do in finance.
There are certain technical indicators that can help analysts better predict when to buy and sell, but overall, it's something the average investor should stay away from.

For over a decade we've had bears calling a top in the stock market and calling for the next great recession, due to cheap money sloshing around the world.
Investing for most people is a long-term game and should be looked at in years and decades not days, weeks, or months.

The chart below shows the five-year return of the S&P 500 Index. Even though the S&P is down over 19% year-to-date, in the last five years it is still up 60% as of this writing.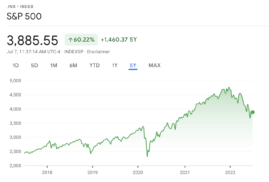 Are we at a bottom? Personally, I don't know, but I know I am in this game for the long-term.
3. How will this crypto winter affect its future?*
This crypto winter is going to be a tough one for many companies in the industry.
Not only does a crypto winter mean lower prices for bitcoin, ETH, and other cryptocurrencies, but it also means businesses will go under and thousands will lose their jobs because of it.
You can see from this chart that the global market cap amongst cryptocurrencies has had quite the ride the last 12 months.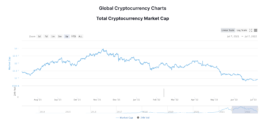 We saw some cryptocurrencies have five thousand percent returns in a matter of a few months. Obviously, this was not sustainable on a long-term basis.
So where do we go from here?

I think the next 12-24 months will be really telling for this industry.

Which companies will survive the winter? Which companies will buy up bankrupted companies? How can we take this infrastructure and turn it into legitimate use cases for financial services other than speculation?

These are just some of the underlying questions I am looking to get answered for the long-term prospects of crypto.

4. How do I keep my mind off the financial markets during rough times?
Bad news always seems to ring louder than good news. With a job that is so heavily involved in finance and seeing market news daily, it does get difficult to drown out the noise.
I spend time with my family, I think about the long-term, I read books, I exercise.
These things keep my mind off the markets. I go to events with my wife and son, and I don't see anyone talking about their portfolios, or worrying about inflation.
People are just enjoying the moments.

And at the end of it, that's what you'll remember.
Not how much money you made, or if you picked the right stock, but did you enjoy the moments with those you love.

This is for informational purposes and to always consult with competent tax advisor or wealth management professional.

*These services are not insured by the FDIC and are not a deposit or other obligation of or guaranteed by Plains Commerce Bank and are subject to investment risks, including possible loss of the principal amount invested.