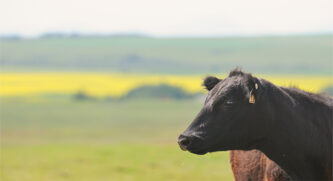 With ever-changing markets and estimated crop production, how can you protect your wealth as a farmer? You hope for the best and plan for the worst—or you can create an ag marketing strategy. Kay Kaup and Roger DeRouchey, our ag banking experts, give their take on why an ag marketing strategy is important in today's market.
What are 2015 ag trends telling us?
"Trends are definitely showing that a marketing plan is necessary," said Kay Kaup. "We currently have suppressed grain prices. With a marketing plan in place, you can secure guarantees for the sale of the produce." This is not only true for grain markets, but livestock markets, too, according to Roger DeRouchey.

Commodity fluctuations all go back to supply and demand. Uncooperative weather and natural disasters can cause shortages. High fuel prices can increase demand for feed corn from the ethanol facilities, too.

The value of the U.S. dollar also impacts commodities. "The dollar has strengthened, and the countries who purchase our agricultural commodities buy less for more of their dollars," said Roger.

Essentially you're never guaranteed a certain commodity outcome in the ag industry, but you can prepare for anything.
How does a marketing plan help offset a farmer's input costs?
There are different types of marketing plans, such as futures and options.

A futures marketing plan, or contract, can help farmers set a floor or bottom price for their commodities. "Locking in a specified number of bushels for a certain dollar amount on a contract will help you offset and pay for input costs," said Kay.

In marketing with options, look at it like an insurance policy. "You pay a premium on your option and hope to never use it—kind of like you never hope to use your car insurance," said Kay. "As a farmer, you hope to capture your upside potential."

A marketing plan can also help take the emotions out of marketing agricultural products. "It's a roadmap and will help provide a security blanket to the producer," said Roger. "This may provide a better opportunity to control the input costs."
How do you create an ag marketing plan? 
What best fits your farming needs and situation? Every farmstead is different. You need to do some homework to know what you need to include. "It's very important to have an understanding of basis—the difference between the futures price and the local cash price—and track this every day," said Kay. "I have had many farmers ask for my advice. We talk over different situations and try to come up with what we feel will be the best scenario for their operation. But ultimately it's their decision."

Sometimes farmers don't want to deal with or feel qualified to create a marketing plan. "You need to find a commodity expert you can trust," said Roger. "Then you can work together to develop a marketing plan without emotions affecting decisions." As a lender, Plains Commerce Bank provides financing to help producers with marketing costs.
Why are we hearing about marketing plans more?
Plains Commerce Bank has been around for almost 85 years. "We have been with farmers and ranchers through the good times and the bad," said Kay. "Years ago, hard work and determination could pull you through. Now days there are so many other factors to take into consideration that affect the farming market so you need to protect yourself. Having a marketing plan is more important than ever."
Why take advice from Kay and Roger?
Kay Kaup is the VP/Business Banker at Plains Commerce Bank in Hoven. Kay was born and raised on a farm. For over 18 years, she has served farmers and ranchers all over Northeastern South Dakota.

Roger DeRouchey is the AVP/Business Banker at Plains Commerce Bank in Mitchell. Roger has worked in all facets of agriculture for over 35 years. Before starting with Plains Commerce Bank in the summer 2013, Roger was an instructor at Mitchell Technical Institute in the areas of farm business management and agriculture technology.
Have questions regarding ag banking? Get in touch!
Not FDIC Insured
Not a deposit or obligation of the institution
No Bank Guarantee
May Lose Value