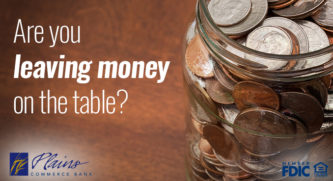 It's amazing what people can get used to, isn't it? Over time, you no longer notice that rattling sound coming from under the hood of your old beater. The car keeps running, so why should you care? Or after years of living in the same house, it no longer bothers you that the master bedroom door sometimes sticks in humid weather. You get used to the unpleasantness because it's just pesky, not outright awful.
Checking accounts should never be like that, yet for too many banking Americans, they are!
Every month, millions of Americans think nothing of depositing their dollars into checking accounts that provide little or no interest on their balances. Others accept that to get a higher interest rate, they'll have to maintain a high minimum balance and leave thousands of dollars of their own money untouched (and unusable).
Your non-interest-bearing or low-interest checking account might seem like it's working. But there are high interest accounts out there, and every month you don't have one, you're leaving money on the table!
"Consumers have been wrongly led to believe that earning competitive rates on checking is not an option anymore," Kasasa CEO Gabe Krajicek told CNBC back in 2014. "That's costing them hundreds of dollars each year."
As of Feb. 29, 2016, the average checking account interest rate was just 0.04% for accounts with balances less than $100,000, according to the FDIC. Even for "jumbo" deposits (accounts with balances in excess of $100,000) the average rate still didn't break 1% — it was just 0.79%, the FDIC reported. That means if you had $5,000 in your checking account last year (the 2015 average was just over $5,400 according to the Federal Reserve and Moebs Services), and the account earned the average rate, you got a whopping $2 for your money!
You can do better than that. Find a checking account that offers a better interest rate and terms you can live with. Many banks are beginning to offer checking accounts (like Kasasa) that use higher interest rates to reward customers for taking actions that benefit the bank and the consumer, such as enrolling in online banking, using a debit card and signing up for eStatements. By tying the interest rates to behaviors that you already do, a bank can afford to offer a better interest rate and lower minimum balance on checking accounts.*
If this sounds like your kind of account, give us a call or talk to one of our personal bankers today to see how a high-interest Kasasa Cash checking account can go to work for you!
*Original article written by Jackson Wise, Kasasa employee, for the Kasasa blog.