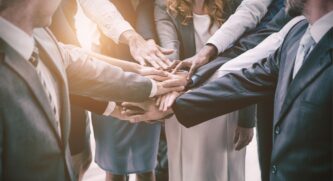 "Individual commitment to a group effort—that's what makes a team work, a company work."—Vince Lombardi. This statement is a true testament of our philosophy at Plains Commerce Bank. Our Human Resources Officer, Caren Schreter, said it best, "Senior management tries to select new hires for that individual to have a career with the bank, not just a job." This sentiment is demonstrated each day through our employees' willingness to go above and beyond the call of duty.
At Plains Commerce Bank, we take pride in the longevity of not only our customer relationships, but also our employee commitment. A history that dates back over 80 years, we are extremely fortunate to have and continue to hire the most qualified individuals in our industry. Out of 174 total employees, 32 have been with us for over ten years. Even more impressive: out of those 32 employees, 19 have been with us for over 20 years.
Roxie Huber, Executive Secretary & Investment Officer, will celebrate her 43rd anniversary with the bank this summer. "Every day is a new challenge and meeting those challenges requires an enormous amount of teamwork. It takes time, patience, and perseverance by co-workers and customers alike. We have an amazing network of team players who come together to provide our customers with the latest technological advances in banking," remarks Huber on her favorite thing about working for Plains Commerce Bank.
After all of these years, it's hard to pinpoint exactly what has led to such great retention. According to Schreter, first and foremost, it starts with a dedicated staff whose main goal is to help our customers. We treat our customers like family and enjoy creating long-standing relationships. Second, Plains Commerce Bank has a management team that trusts employees to get the job done. Third, when the opportunity arises, we make every effort to promote within. And lastly, hiring individuals who truly enjoy what they do. This leads to a friendly, fun and positive work environment.
After growing with the bank for the past 20 years, President Brent Heinert knows firsthand the value of a long-term employee. "I am very thankful for the opportunities the bank has given me and I look forward to the future. I am also very thankful for all the employees of Plains Commerce Bank. Without our great staff, the bank would not be what it is today!"
Check out our careers page to see what positions we currently have available.