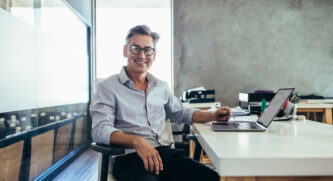 Only visionaries could take a former auto garage space and transform it into a beautiful showcase of design and creativity. And that is exactly what Zing owners, Julie Flannery Allen, Sarah Lavin, and Michael Flannery did when they sought to expand their business in 2012. Seeking out a unique space and turning it into a contemporary retail and event space that is both bright and inviting is just the tip of it. "We want people to see us as not just a furniture store but a place to inspire people," remarked Lavin.
The ability to see potential in a blank canvas takes vision and work. Hard work. Obstacles crowded their path at every turn, making their vision of turning a marketing based service company into a retail sales company appear impossible at times. That is until Jason Appel, Executive Vice President and Branch Manager of our Sioux Falls locations, stepped in. A few things stood out to Jason upon his initial meeting with Julie, Sarah, and Mike. "It was obvious that they were great people with good connections. They were well researched and they had a desire to succeed. If I were to pick my top three items that I look for in a customer, they passed each of the most important tests." Sarah, Julie and Michael were not the only ones who came prepared. Jason was able to bring a wealth of resources to the table that were critically important in securing local funding from both Dakota Business Finance and South Eastern Development Foundation. "Jason played a huge role in helping us with the space. We wouldn't have it if it weren't for Jason."
Trust, alongside confidence are characteristics that play a key role in a successful banking relationship. At Plains Commerce Bank, we take the correct steps upfront to ensure that our customers are clear of what we expect. We can in turn trust our customers to make the right decisions regarding their business. "We know that they are taking care of and watching us. It's good to know that someone has our back," stated M. Flannery.