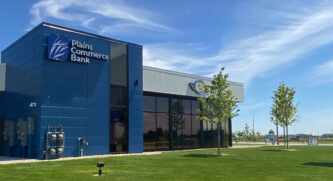 Can you believe it? It's already been one year at 57th & Sycamore! Our tenth location opened during an unprecedented time, but that didn't stop us from having a fantastic first year!
Sioux Falls EVP/Branch Manager Jason Appel and Retail Banker Tamen Robb helped us reflect on all the excitement at our newest branch.
How did the first year go for the branch despite opening during the COVID-19 pandemic? Certainly, the pandemic slowed foot traffic into the branch, which is difficult on our staff as we really enjoy the chance to meet people, learn about their life stories, and serve their financial needs, Jason says. We are excited about the impact we have been able to have on the neighborhood in the last 12 months, but we had hoped for more prior to the pandemic. We hope to get back on track with those plans later this year!
What does it mean for the bank to have a branch in Southeast Sioux Falls? It's critical to our bank to provide well-located branches so that our customers can talk with professionals, make deposits, and have access to the funds they entrust us with, Jason says. For us, banking is a relationship-focused business that is rooted in trust. It is hard to trust an organization or an advisor that you can't meet with or talk with on a regular basis. Our strategy is to have our talented staff located along the major commuting streets in our markets so we can be a convenient stop in customers' routines.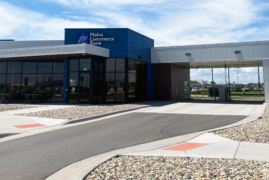 What was it like working in the bank during its first year? Tamen says it was never the same on any given day! Every interaction was special because I wanted to show my customers that there is a reason to come by and see me. Customers told us a lot that it is so nice that we are out here because they don't have to drive across town to do their banking. I wanted to make every conversation memorable!
What has it been like working in the branch during the pandemic? It has definitely been a challenge, Tamen says. When you are a community bank, the whole idea is to be able to see the people you serve in your community face-to-face. There was quite a bit of over the phone banking, but it did not stop people from coming to see us. It has made those first moments more memorable!
What are special features of the 57th & Sycamore branch? First, we are attached directly to FlyBoy Donuts, Tamen says. Customers can come in and get help with their banking needs and then head right over to FlyBoy to enjoy one of their many tasty options and coffee! Plus, our coin machine is a prime spot for you to bring your kids to count the change in their piggy banks. Our lobby also opens an hour earlier than the other two Sioux Falls branches, which is convenient for many of our customers.
How is this branch designed? We wanted a modern feel on the interior, Jason says. Customers get a high retail experience with high counters and relaxing and inviting colors and finishes. We offer access to technology and technology coaching for customers if they need it. The design is incredible!
How does this branch cater to families with children? We worked together with FlyBoy Donuts to create a kid-friendly environment in the lobby and in our individual spaces, Jason said. There's nothing there that can't be replaced if it gets crawled on, tipped over, or spilled on! Our bank has a vested interest in helping kids learn financial literacy, and just having them come into banks helps them ask questions and learn a little bit about what we do. There are mutual smiles between the kids and our staff as we see the child's excitement for a donut, and they see our excitement from their enjoyment of the facility.
What do you hope to see for the branch in its second year and beyond? The continued growth is always on your mind, especially as Southeast Sioux Falls grows, Tamen said. I want to be able to go out and meet with the different residential customers and the many new businesses that are opening up around here and get to know them. I want to make sure that everyone knows about Plains Commerce Bank at 57th & Sycamore and showcase how our bank is special!