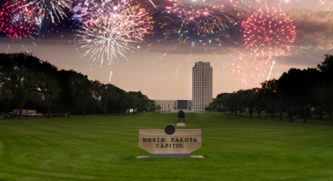 Plains Commerce Bank of Bismarck invites you to celebrate the Fourth of July on the North Dakota State Capitol grounds beginning at approximately 8PM with music from the Bismarck-Mandan Symphony Orchestra and Shawn Oban.
Former Burning Hills Singer Brandon Box-Higdem and Medora's "Queen of the West" Emily Walter join the BMSO for an evening of pop, country and patriotic favorites in the annual Fireworks Spectacular. Symphony music begins at approximately 9PM, with fireworks starting at dark.
Maestro Beverly Everett invites the community to attend this event. "Our annual July 4th spectacular is one of our favorite concerts of the year. We are deeply grateful to all our sponsors who make this night possible, to our amazing orchestra, and to you our incredible audience. See you on the 4th!"
A VIP package is available only for the 4th of July Symphony Spectacular. The package is $50 and includes premium seating and a designated parking spot. Limited packages available through June 30. To purchase packages, contact the BMSO office at 701-258-8345.
The symphony once again invites trombone players of all skill levels to take part in music from "The Music Man" with a rousing tribute to "76 Trombones." Interested trombone players should contact the BMSO office.
Plains Commerce Bank is proud to sponsor this event in the Bismarck community. "The 4th of July celebration with the Symphony is a wonderful way to come together as a community and celebrate." says EVP/Branch Manager Jessie Johnson. "Bismarck is a vibrant and growing community, and we are so fortunate to have such a talented group of musicians who dedicate their time and talents for us to enjoy."
Visit the BMSO on Facebook for more information on this concert and more throughout the season.