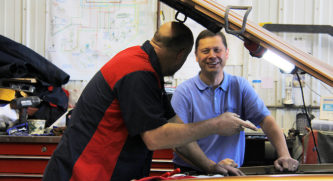 Is a local bank right for your business?
Not all banks are created equal. If you're a business owner in the market for a new business banking partner, this article will help you find a bank that can help you succeed in more ways than one.
What you want may be different than what the business down the street wants. So consider these four questions before you set out to find your bank.
Will you benefit from a close relationship with your bank?
While some banks crunch numbers, others get to know their customers. This relationship can be valuable—especially when starting a business or during periods of growth when there are a lot of factors going into decisions. Also, if you don't know which banking solutions you need, it's worth talking to a business banker to get recommendations. After all, it's what they do for a living.
"We always try to start with a sit-down meeting," says Jason Appel, EVP and Branch Manager of the Sioux Falls Plains Commerce Bank branch. "For us to build successful relationships, we make sure we share some common goals and philosophies with the business owners. We like to know about successes and failures that left lasting impressions and what their vision and strategy is for the future."
Talking with a business banker is just the first step toward creating a long-term relationship. "Once we have this information, we can start crafting a banking relationship," says Jason. This relationship allows business bankers to recommend solutions that align with your strategy, whether it's a simple business checking account or startup loan.
Taking time upfront to find the right bank can save you time and effort in the long run. "We set businesses up for long-term success," says Jason. "This relationship can help them focus their time on managing and growing their business."
What business banking solutions do you need?
While it's important to look at and compare fees and interest rates on accounts, it's also important to look at the tools and technology a bank offers. Great banking technology can save you time and money.
"While we enjoy seeing our customers, we know the pace of business has changed, so we want to do everything we can to help our customers be as efficient as possible," says Jason. You may wish to look for services like ACH (Automated Clearing House) capabilities, so you can take advantage of automatic deposits for payroll. Or prevent fraud and save time by finding a bank that has remote deposit capture, which allows you to deposit checks without visiting the bank.
With so many technological advances in banking, there are likely many convenient banking opportunities your business can take advantage of.
What experience does the bank need in your industry and revenue range?
Some banks work with small businesses while others specialize in serving large corporations. One bank may also be more familiar with certain industries than others. This knowledge can help banks recommend solutions that have helped other similar customers succeed.
"The size of our bank and our strategy fits well with strong managers of small businesses, typically with revenues between $500,000 and $20,000,000," says Jason. "Our bank is familiar with many industries, including manufacturing, services, retail, construction/development, and real estate. We have the capability of helping companies larger and smaller than these thresholds as well, depending on their capital structure and personal investment in their company."
However, your ultimate decision may not hinge upon how much revenue you bring in or what industry you're in. Sometimes, the way in which you run your business matters more when choosing a bank. "While our focus does sometimes fall on the numerical metrics of the business, we also try to focus on the management ability of the business operators," says Jason. "We look for a strong and steady track record of success, a strong management team with a good succession plan, and business history that should translate into a strategic advantage in their industry."
Are you going to stay local or regional?
Your local business bankers engage with and have ties to the local business community. That means they understand and care about the local market and how you might benefit from specific banking services relative to your business' location. It also means if you want to open an account or take out a loan, the person who makes decisions is usually right in your town of business.
"While we try to set our relationships up for long-term, low-maintenance success, we also recognize that things can and will change," says Jason. "These changes can happen quickly, and banking with a bank that understands your business and your business environment is a huge asset." A bank may be better equipped to help you respond to these scenarios depending on where it is located.
Ready to learn more about local banking?
Finding the right bank for your business may be a hassle. But finding the right one can help your business succeed in many ways.
Plains Commerce Bank is a local bank with branches in South Dakota and North Dakota. If you're curious, talk with a business banker today. There's no pressure to sign up for anything. Just let us know what you're looking for and how you'd like us to help.