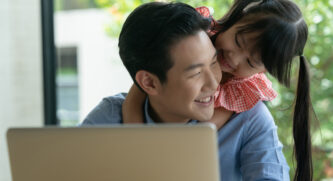 Today, April 22, is National Teach Children to Save Day, which means it's the perfect time for kids to learn about the value of saving money! Saving can be a fun activity for you and your child to do together. Retail Banking Coordinator Mary Jo Rausch and Retail Banker Janet Feist answer FAQs about savings for kids to help you educate your children about the benefits of saving.
What is a good age for children to start saving? Mary Jo says to start saving at any time after your child is born and has a Social Security Number. The sooner you start saving, the sooner you'll see the benefits!
How can parents help their children save? Janet and Mary Jo say parents can get involved right away by teaching your kids how to manage and save their money. Let them know if what they want to spend their money on is a good investment or not. You can tell your child what things you saved up to buy and why it was worth saving for. Janet suggests having grandparents help with this, too!
What are ideas for teaching children to save? Encourage kids to set aside percentages of earnings for different things, like church offering, saving and spending, Janet says. A great way for children to learn is by earning money for doing simple chores. "My 2-year-old granddaughter puts the silverware on the table for supper!" she says.
What are the benefits of a youth savings account? Most children under the age of 18 can open a savings account, and there is no fee for children under the age of 18! Plus, you can earn interest on the account. Your child will see the benefits of saving by watching the money grow! Our youth savings account has no monthly service charges and no minimum balance, so it's perfect for learning money management.
Why should a child start saving? Saving helps children prepare for their future goals, Mary Jo says. It can also help them have enough money to purchase something that means a lot to them.
How do youth savings accounts teach the benefits of saving? Youth savings accounts teach children by making them active in the saving process. Bring your child in to make their deposits, whether it's money from their piggy bank, birthday, holidays or allowance. That way, they get to experience the savings process firsthand and watch their money grow with each deposit.
It's never too early to start saving! If you're ready to get started, reach out to your local personal banker.
*Your interest rate and annual percentage yield may change. At our discretion, we may change the interest rate on your account at any time. Interest begins to accrue on the business day you deposit non-cash items (for example, checks). We use the daily-balance method to calculate the interest on your account. This method applies a daily periodic rate to the principal in the account each day.

Fees could reduce earnings on the account.