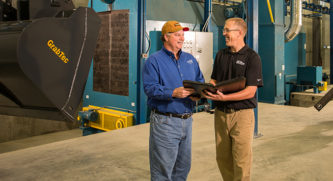 Perhaps you're opening your first business, or maybe you're looking to expand. Either way, it's important to build credibility with your business banker. Executive Vice President and Plains Commerce Bank Sioux Falls Branch Manager Jason Appel fills you in on what you need to know when approaching your bank for a business loan.
Do proprietors need a business plan when applying for a loan? If so, what needs to be included?
A well thought-out business plan is always a plus—especially if the transaction relates to purchasing a business or starting a new company. Include your company's vision, management's bios and resumes, a summary of market research, and 3 years of cash flow projections.
A business plan is like a first impression. Have others review your plan for typos and grammatical errors to make a great first impression. While this is not required, all business bankers prefer to see a business plan.
What other documents do owners need when applying for a business loan?
In addition to a potential business plan with 3 years of cash flow projections, you'll need 4 other sets of documents:
● 3 years of historical tax returns
● Any available year-to-date business balance sheets
● A profit and loss statement
● A complete and signed personal financial statement (a disclosure of all your assets, liabilities, annual income, and annual expenditures)
How can entrepreneurs make the business loan process easier?
Sioux Falls is invested in helping businesses grow. In fact, Forbes ranks Sioux Falls, SD among the #5 Best Small Places for business and careers. The Small Business Development Center near Southeast Technical Institute in Sioux Falls is a great resource that can help you prepare financial projections for your new or existing company. Similar organizations may be available in other communities as well. You'll just have to do a little research to find them. Online resources may also assist you with developing a business plan.
How can a business set itself up for success?
Two words: research and capital. We look for operators who are experts in their industry—demonstrated through past work or deep market and customer research. We also look for proprietors confident enough in their business plan to invest personal capital or assets along with the bank's loan. Adequate working capital is crucial to a successful business. It is also a focus of the Small Business Development Center's work with potential business owners.
How does the process differ if a business is looking for a start-up loan versus a growth loan?
Our approach is similar for both circumstances. However, in a growth situation, we put more emphasis on the past performance of the business and management's ability to manage the growth. A growing business (especially a rapidly growing business) can create challenges for a bank. We focus on what is driving the need for financing. Is it true revenue growth or a new opportunity that the business needs to fund? Or is the need for financing driven by the owner's withdrawal of significant capital from the business, which creates a cash flow shortage?
Successful businesses and management teams find ways to retain a significant portion of their profit and cash flow in the business for future investment or working capital. Those companies typically have the easiest access to bank financing.
What is the advantage of going with a community bank like Plains Commerce Bank versus a large bank?
At Plains Commerce Bank, we are bankers—not salespeople. We are growing, but we are not steeped in an intense sales culture that can often lead to risky credit decisions and set up new business owners for failure.
We strive to do it right the first time. Our staff has many years of experience, and our goal is to provide expertise and financial resources to customers that will facilitate long-term financial success. Our bankers are part of the loan process from start to finish and have true lending discretion.
What else should small businesses know about when it comes to qualifying for a loan?
Good personal credit history plays a large role. In the bank's eyes, one's ability to manage personal finances is a direct reflection of one's ability to manage the financial affairs of a company. Most qualified applicants have built a body of work throughout their lives that shows a strong combination of financial skill, business skill, professional contacts, and a deep knowledge of their industry. Applicants who summarize this ability in a clear and concise business plan to demonstrate a strong track record of success help make the lender's decision an easy one.
Have questions about business banking or applying for a small business loan? Our business bankers are here to help! Even if you're just starting the process or have a quick question, give us a shout.