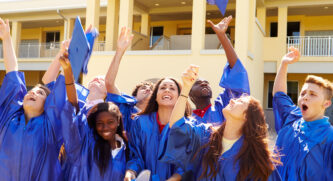 On average, families spend $26,226 on college, according to a national study. However, family savings and income alone often do not cover the full cost of college. Studies report that more than eight in 10 families use scholarships and grants, and more than half of families borrow to cover college costs.
Plains Commerce Bank is proud to do our part to help alleviate the burden for a handful of deserving students and their families this year. The bank awarded 8 students a total of $6,000 to help cover the costs of their continued education. This year's deserving recipients were:
Beth Nagel – Gettysburg High School
Hunter Eide – Gettysburg High School
Grace Beyers – Ipswich High School
Sydney Rosebrock – Roncalli High School
Travis Sharp – Aberdeen Central High School
Casey Miller – Mitchell High School
Mason Schroeder – Florence High School
Maddi Spiering – Watertown High School
"The Plains Commerce Bank scholarship program is an excellent program that gives back to the youth in the community seeking further education." says Beth Nagel, scholarship recipient. "As I was filling out scholarships this spring, I was very excited to find that my local bank offered a scholarship because it just goes to show the support they have for their youth clients."
Brent Heinert, Plains Commerce Bank President, replies, "The class of 2020 has faced immense adversity as they conclude their high school experience. It is our privilege to be a light of positivity through our scholarship program."
Communities bond together in tough times, and our relationship with local students is no different.
Plains Commerce Bank is fortunate to have such bright, inspiring, and involved young customers. We are proud to support the students of our local communities and wish them each the best in their post-secondary endeavors.