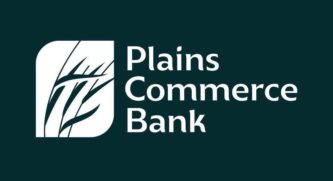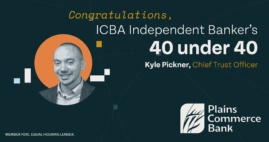 Congratulations, Kyle Pickner on being recognized nationally as a leader in community banking! Independent Community Bankers of America (ICBA) named Kyle to its list of 40 under 40 Emerging Community Bank Leaders.
"Being a community bank means being an institution who can be forward thinking and a leader in the transformation of financial services. My mission lies in providing education to all ages-from children to professionals-on the ever-changing world that is finance." – Kyle Pickner.
Kyle joined Plains Commerce Bank as Chief Trust Officer in early 2021 and has been blazing a trail ever since.
1. What do you think are the most important values and ethics you demonstrate as a leader in a community bank?
As a leader, the most important part I look to is being a doer first. A value instilled in me as a child was to never think you are above a job or task. My parents always taught me to lead with humility and be authentic. In the last four years as an executive, I have always tried to lead from the front and take on any job that needed to be done. From taking out the trash and cleaning the office on the weekends to being in executive meetings during the day, nothing is too small or large when leading others.
2. As an emerging leader what do you think is most important in creating a positive culture and environment?
In any organization the two most important factors are culture and communication. Having a mission for Plains Commerce is creating a positive experience for employees and customers alike, which needs to be our number one goal as a community bank. As a leader in the bank my job is to be approachable and honest when dealing with our internal staff. Also, being open and transparent, as well as creating an environment that employees and customers want to be in shows that we value you.
3. How has your leadership contributed to your current bank's growth and innovation?

Be Unique. It is one of the five core values which Plains Commerce Bank lives on. Our primary job as a community bank is to be a go-to institution for financial services in the regions we serve. For over a year, my leadership has contributed to pushing employees, managers, and executives to think outside of the box. I have been working on bridging the gap between traditional finance and cryptocurrency. Pushing the envelope by educating our employees and customers, speaking regionally to universities, estate planning councils, trust and bar associations, and numerous other banks and financial services companies. I am looking to educate and inform on how this new technology and asset class will play a role in the future of finance.
4. Why are you passionate about banking and what are you doing to advocate for the future of banking?
The very basic premise of banking has always stayed the same through the course of history. However, the way we utilize digital applications, or find more efficient ways to transact has be evolving throughout the years. Now in the year 2022, especially after Covid-19, we see that many individuals and businesses have changed the way they think about interacting with third parties and financial institutions. Much of what we try to do here at Plains Commerce is to be forward thinking in providing the best experience to customers. With that, comes making sure we know what the latest trends are, how are customers are doing business, and what the future of digitization looks like.
5. What achievement have you accomplished personal or professional that has had the largest positive impact on your organization or community?
Prior to coming to Plains Commerce Bank, I had the opportunity to be Director of Operations for the first regulated digital asset custodian. I helped build the financial operations from the ground up for a company that was servicing institutional clients wanting to secure their digital assets in a safe manner with a regulated entity. With that came a lot of long hours and late nights working. We worked with clients all over the world. My greatest achievement was the recognition I received from the staff and executive team when I decided to pursue other opportunities in March of 2021. The outpouring of emotion I received and the lifelong connections I made was the recognition I needed to know we achieved success in my time there.
6. How do you see Plains Commerce shaping the community banking industry in the future?

Community banking is meant to serve main street. Small towns and communities all over the country need access to financial services and some have few places to go. When we think about what Plains Commerce is, we are a relationship driven bank that approaches banking in a unique way. We are trying to lead from the front and be innovators to set up individuals and small businesses for success no matter what their circumstance. Our job as a community bank is to be the go-to institution in our communities to help provide an experience unmatched, so we can help our customers thrive into the future.

7. With the world of finance changing rapidly, how do you make sure Plains Commerce stays forward thinking in an industry as mature as banking?

Banking is a relatively conservative industry overall given the regulations and duty of safekeeping customer funds. However, just because we are a regulated entity does not mean we are forbidden from being innovative. Here at Plains Commerce we believe it is our duty to continue learning and improving for our customers by listening and understanding their needs.
These services are not insured by the FDIC and are not a deposit or other obligation of, or guaranteed by Plains Commerce Bank and are subject to investment risks, including possible loss of the principal amount invested.