Tabitha Torgrude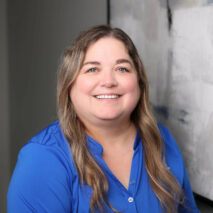 Tabitha Torgrude
Retail Banking Service Specialist
Meet Tabitha Torgrude. With over 17 years of Retail Banking experience, Tabitha brings a wealth of knowledge to Plains Commerce Bank. Tabitha loves chatting with customers and learning about their interests so they can discuss it every time the customers comes in and appreciates working for a bank that puts customers first.
"I love working with customers. To have a customer trust you with their finances is a complete trust," Tabitha says. "Knowing my customers is the most rewarding part of my job. As a community bank, we have such pride in the work we do and so much care for our customers. We care about our team."
In her spare time, she volunteers with the ALS MN/ND/SD chapter when they are in Sioux Falls, an organization close to her heart as her dad was diagnosed in 2006 and passed away in 2008. She also volunteers with the Pink Ladies, a non-profit that aids those battling cancer.
Tabitha has been blessed with her family and is always excited to show them off, she says. She has a husband, Courtney, of 32 years and loves spending time with her adult children and one grandson—being a grandparent is amazing! She also enjoys fishing and hanging out with friends.
Fax
(605) 275-2466‍