Paul Larson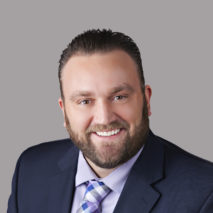 Paul Larson
Mortgage Banker
Meet Paul. Paul wants to help you finance your next house with a great home financing experience by providing excellent service and great communication. Your financial needs are always his top priority, and he will work hard to provide a quick and efficient home financing experience.
Paul has 15 years of experience in the financial services industry; including four years as a mortgage loan officer. His personal experiences have aided his ability to find each customer the right loan program to fit their needs. For example, after serving in the Army National Guard for nine years, Paul is quite familiar with the Veteran's Administration and a seasoned banker when it comes to helping others with their VA Home Loans. He has also helped customers to successfully close Conventional home loans, Federal Housing Administration (FHA) insured loans, Rural Development (RD) loans, and he loves working with first time homebuyer programs as well.
Paul and his supportive wife, Kristie, were both born and raised in South Dakota and intend to raise their four wonderful children here as well.
While Paul would love to meet you face-to-face, he realizes that you are busy. If you don't have time to stop by the office, you can always catch him via text, cell phone or email as well. Call Paul today for a great mortgage experience and a smooth closing!
Apply

with Paul
Fax
(605) 886-8673‍