Matt Maslowski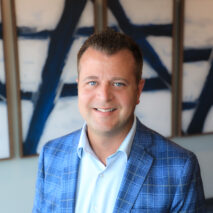 Matt Maslowski
Market President
Meet Matt Maslowski. Born and raised in Bismarck, Matt attended the University of Mary earning both his Bachelor's and Master's degrees in Business. His education led him to the financial services sector, which he has called home for the past decade. From leadership roles to management and coaching, Matt's depth and breadth of knowledge in the industry is unmatched.
Matt is passionate about people and serving his customers and communities to thrive and prosper. "The best part about being a banker is ability to help people through consulting and offering advice to determine their goals and realize their dreams."
"Plains Commerce brings the community banking values and dedicated employees to the communities we serve. Bismarck-Mandan and the surrounding areas continue to grow within both business and consumer expansions, and we are eager and ready to be part of the outstanding people that make this a great area to live and do business," remarks Matt.
Outside of work, Matt enjoys anything outdoors on the water and spending time with his family.