Hank McCall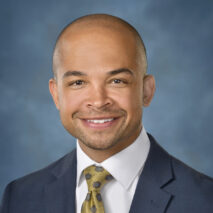 Hank McCall
Market President
Meet Hank McCall. An Iowa native, Hank has spent the past 15 years immersed in the Sioux Falls community. As the Market President for Sioux Falls, Hank oversees the business development functions for the commercial and agriculture lending departments within the bank's largest market.
In joining Plains Commerce, Hank not only brings strong market knowledge but a passion for creating and curating relationships.
Over the last decade Hank has spent his time navigating the intricacies of the banking and financial world by setting his focus on enhancing the customer experience. "I believe that we are in the relationship business and continuing to focus on building and strengthening relationships with our customers and the communities in which we serve is my #1 priority." Whether customers have a simple question or need to brainstorm a new business idea - Hank's time is your time. With a goal to ensure strong banking relationships across all areas of the bank, Hank and his team will provide a banking experience that customers have come to know and expect from Plains Commerce Bank.
In his free time, Hank enjoys spending time helping his wife Ashleigh coach their daughters in their various sporting activities, finding a body of water to throw a line in, and cheering on the Jackrabbits as they compete for championships.
Fax
605.275.2466‍