CJ Huber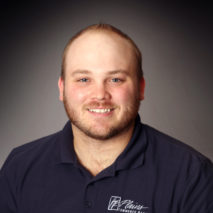 CJ Huber
Retail Banker
Meet CJ Huber. As a retail banker, CJ works to help people with their finances and says it's his ambition to hopefully make their life a little easier.
"It's extremely rewarding to build relationships with people and learn aspects of their life that allow me to better help them with their banking needs, not only now but well into the future," says CJ.
When CJ is not getting to know his customers at the bank, you'll likely find him enjoying time with his wife, Caylene, and their dog Oakley.
Cj is an avid sports fan, but says his true passion is bowling. He also enjoys attending country music concerts and appreciates sappy movies or TV shows with his wife by his side. While friends sometimes refer to him as "softy", CJ says he takes no shame in his love for great films.
Stop by our 49th Street branch in Sioux Falls to meet CJ today!
Fax
(605) 275-2466‍‍