Carrie Knips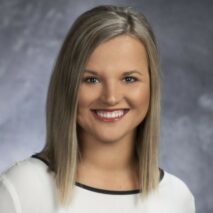 Carrie Knips
Market Retail Manager
Meet Carrie Knips. Carrie has 8 years of banking experience in various roles, including teller, customer service representative and personal banker. Working in different roles helped Carrie expand her knowledge in the banking world, and she has enjoyed learning in each position. Carrie's knowledge helps her create real relationships with customers, whatever their financial needs.
"I love getting to work with people and building really strong relationships with them on a personal and professional level," Carrie says. She appreciates how the relationships she forms continue to grow stronger through every interaction with a customer.
Carrie and her husband enjoy working on projects together, such as finishing their basement and landscaping their yard. They are expecting their first child, a little girl, in September and can't wait for her to be here! Carrie says their little girl has already taken over their lives, and they are excited to introduce her to their goldendoodle, Sadie.
Carrie enjoys spending time outside doing activities like kayaking, boating, bonfires and taking Sadie for walks.
Fax
(605) 275-2466‍